A malfunctioning oven or stove could mean many things, from disappointing meals to serious safety issues like gas leaks and fire hazards. If you have recently experienced a lapse in your unit's performance quality or have noticed a change in your appliance's behavior, contact the oven repair professionals at Mamaroneck Appliance & Services today. Our team can perform oven and range repair projects of all types and magnitudes, so if you're in any way unhappy with the manner in which your machine is operating, give us a call or send us an e-mail to set up an appointment. We will use our more than 57 years of experience to accurately diagnose your unit and implement effective oven repair service. Whether you are interested in minor range repair, such as fixing a broken burner, or you suspect a possible gas leak, Mamaroneck Appliance & Services, Inc. is the name to know in Westchester County and beyond for professional, long-lasting range and oven repair service.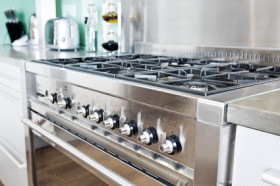 Oven problems can be the result of many underlying causes. At Mamaroneck Appliance & Services, Inc., our technicians are trained to efficiently locate the source of the problem and then determine the proper oven repair parts and labor required to fix it. We believe that honest, upfront pricing is the best way to handle appliance repairs, and we go above and beyond to make sure you understand what's required for your oven or stove repair before we begin the project. We stock a wide variety of the most common repair parts in our service vehicle, so in most cases, we have everything you need for complete range repair right on hand. Specializing in precision repairs, fast service, and the quality customer care you deserve, Mamaroneck Appliance & Services is here to safely eliminate your range, oven, and stove repair issues.
We can take care of most common oven and cooktop problems, including:
No heating
Insufficient heating
Overheating
External heating
Possible gas leaks
Sparking
Burners not working
Features such as dials and timers not working
Our team is available to provide gas and electric range repair and service a full range of models and brands. We're proud to be your one-stop shop for complete, affordable oven repair service in Westchester County, Scarsdale, and other nearby communities. Regardless of whether your oven won't turn on or it seems like your range isn't maintaining a steady temperature, we can troubleshoot and resolve the issue in no time at all. For more information on our oven and range repair services, feel free to contact us by phone or e-mail today! When you choose Mamaroneck Appliance & Services, you'll enjoy high-quality craftsmanship and comprehensive customer service—and always at reasonable rates.
La Cornue Range Repair
In addition to our residential oven repairs for basic models, Mamaroneck Appliance & Services is proud to offer comprehensive range repair for state-of-the-art La Cornue units. With a reputation for exceptional quality, La Cornue ranges are more investments than just mere kitchen appliances. Whether you need professional cooktop repair for the gas burners on a CornuFé model or oven repair for a convection oven in the Château series, when you call Mamaroneck Appliance for convenient, affordable range repair, you can rest easy knowing that your La Cornue stove or oven is in good hands.
With over two decades in the stove repair business, our technicians have what it takes to complete your oven repair with the precision and skill you deserve. To learn more, call or e-mail us today. Our range repair specialists will gladly answer any questions that you may have.