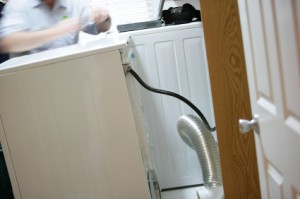 A malfunctioning dryer is not only inconvenient—it could also put your home at risk for a variety of serious safety problems, such as fire hazards. If you've noticed symptoms such as overheating or poor tumbling, contact Mamaroneck Appliance & Services, Inc. today for professional dryer repairs. With more than 57 years in the field, Mamaroneck Appliance & Services is Westchester County's resource for reliable, cost-effective washer-dryer repair service. No matter what kind of dryer repairs you require, you can expect quality craftsmanship from experienced technicians who have a sincere interest in providing each customer with long-lasting results. So rather than dealing with weekly trips to the laundromat because the dryer won't turn on, get our washer and dryer repair team on the job instead. We work hard to make certain you get the friendly customer service you want and the clothes dryer repair services you can count on, all at great prices you can afford!
While some washer-dryer repair companies only service one or two brands, Mamaroneck Appliance & Services is available to work on all of the major makes and models. For your convenience, we are proficient in both electric dryer repair and gas dryer repair. Our technicians use only the finest parts and tools in the industry and are always staying abreast of the latest techniques and trends so we can be sure to provide every customer with the most up-to-date service possible. We even keep the most often required clothes dryer repair parts on hand to help complete your project with some of the fastest turnaround times in Westchester County and the surrounding areas. From Maytag dryer repair to GE dryer repair, our technicians are pleased to bring you efficient diagnostics and complete repair workmanship.
Our dryer repair professionals can take care of problems like:
Malfunctioning thermostats
Fried heating elements
Crumbling door gaskets
Broken door switches
Faulty electronic ignitions (for gas dryers)
Worn drum belts and bearings
Damaged motors
If you're thinking about purchasing a new dryer because your current model isn't working quite right, consider this: Most old dryers are just as efficient as newer models. Add in the simple fact that washer-dryer repair is almost always more affordable than buying a whole new appliance, and choosing to have your dryer fixed rather than buying a replacement just makes sense! With our surprisingly affordable rates and tip-top repair quality, Mamaroneck Appliance & Services, Inc. can help you save even more. So if you're looking for a gas or electric dryer repair professional in Westchester County, Greenwich, or environs, contact us via e-mail or telephone today to get started.