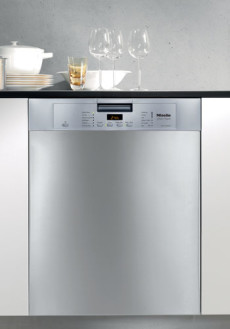 Over time, even the most reliable dishwasher could begin to have technical difficulties. Problems like leaks and jammed float switches don't have to mean that your machine is permanently damaged, however. If you're in any way dissatisfied with the performance you're receiving from your unit, the dishwasher repair professionals at Mamaroneck Appliance & Services can help get your appliance back in top condition. Whether you are interested in minor adjustments such as dishwasher rack repair or you require a professional to troubleshoot your water inlet valve or drain connection, contact our team for answers. With more than 57 years of experience with major appliance repair services, Mamaroneck Appliance & Services, Inc. is here to help homeowners in and around Westchester County with dishwasher repairs of all kinds.
The most common solution for dishwasher repair problems is actually food removal. Pieces of food can get caught in your dishwasher and create clogs and other undesirable effects, but the solution is as easy as locating and removing the blockage. At Mamaroneck Appliance & Services, our skilled technicians have the knowledge and skill to adeptly perform food removal as well as the following dishwasher repairs:
Float switch repair
Water inlet valve replacement
Door latch or gasket service
Drain valve repair
Heating element replacement
Dishwasher rack repair
And more
For your convenience, our professionals are available to work on most major dishwasher models and brands, so we can help with everything from Maytag dishwasher repair to Bosch dishwasher repair. Mamaroneck Appliance & Services, Inc. has the tools and technical know-how to diagnose and resolve the full spectrum of dishwashers repair issues and can even give you maintenance tips to help you prevent the need for similar dishwasher repairs in the future. Regardless of what symptoms your dishwasher is displaying, our team should be able to eliminate them and provide you with a sturdy machine free of unwanted behaviors. Don't hesitate, and risk allowing a relatively minor problem to develop into something more serious—pick up the phone or send us an e-mail if you have any reason to suspect that your unit could benefit from the attention of an experienced dishwashers repair expert.
Customers don't have to worry about the cost of dishwashers repair when they call Mamaroneck Appliance & Services. Our team places an emphasis on providing Westchester County and Greenwich with affordable dishwasher repair services. Our professionals will use our skills and knowledge to help you save big over the cost of buying a new dishwasher. Regardless of the magnitude of your dishwasher repair needs, you can expect accurate diagnostics, fast service, and quality solutions from the dedicated pros at Mamaroneck Appliance & Services. For more information about our reasonably priced dishwasher repairs and your particular appliance needs, just pick up the phone and call or send us an e-mail today. We will be more than happy to answer any questions you may have and set you up with an appointment for appliance repairs.