Mamaroneck Appliance & Services, Inc. is the name to know in Westchester County, Greenwich, and other nearby communities for a wide variety of residential appliance repair services. If your malfunctioning appliance has been causing you frustration, please don't hesitate to call or send us an e-mail. Our team has the tools and the know-how to restore your machine's performance ability and eliminate unwanted and dangerous behaviors. We provide major appliance repair for large home appliances, and with over 57 years' experience, you can trust our professional technicians to get the job done right. Regardless of your appliance type or brand, the talented team at Mamaroneck Appliance & Services is committed to making your appliance repair services affordable and hassle-free.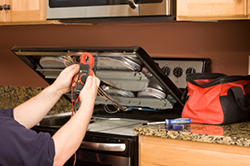 The Mamaroneck Appliance & Services, Inc. team has been providing effective, fairly priced appliance repairs since 1955, providing over five decades' worth of professional experience. Your technician will begin by examining the machine for damage or internal deterioration, troubleshooting the appliance in order to accurately diagnose the underlying cause of the symptoms. Once we've established the reason behind your unit's problems, our craftsmen will use the latest techniques and finest appliance repair parts to ensure that the issue is corrected. At Mamaroneck Appliance & Services, we're not in the business of providing short-term repairs that will let you down after a few weeks of service. Instead, we are committed to bringing you major appliance repairs that will have the strength to hold up to your daily demands and provide you with long-lasting, flawless service. And because we offer honest, upfront pricing, you can be confident in our reasonable, cost-effective rates.
When you want the reliable appliance repair services and customer care that you deserve, contact Mamaroneck Appliance & Services. We provide major appliance repair service for:
Refrigerators
Ice makers
Freezers
Gas grills
Dishwashers
Washers
Wine coolers (small and walk-in)
Dryers
Garbage disposals
Trash compactors
Cooktops, ranges, hoods, and ovens
When you need professional appliance repair services in Westchester County and beyond, we're the experts for the job. We service both basic and high-end brands, so whether you've got a Whirlpool, KitchenAid, or Sub-Zero appliance, we can help. In fact, we're even experts at working on La Cornue ovens and stoves!
Whether you're in the market for major appliance repair to fix a serious operational issue or you are interested in having a professional resolve a small problem so that you can avoid more costly repairs in the future, call Mamaroneck Appliance & Services today. One of our representatives will be more than happy to answer any questions you may have about our appliance repair procedures or our company policies.